The Raging Torrent – Book Two of the 'Star Sapphire and the Land of Gems' Trilogy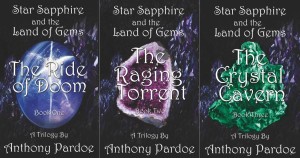 Introducing young readers to the fascinating world of crystals, rocks and minerals in the context of a magical adventure story, book two of Anthony Pardoe's exciting, uplifting trilogy is a delight for middle grade readers, and will appeal to parents, teachers and librarians alike. With humor and a very strong message of friendship, bravery, loyalty and selflessness, this book is a 'must read'.
Follow Star and Jasper on this second thrilling adventure through the Land of Gems, where some gemstones are friendly and some are not! Will they fight their way to the Great Crystal Cavern? Will Star have the courage to face her worst fears and rescue Jasper?  Will their shining example of friendship, bravery and loyalty carry them through? Will they EVER get home?
Star Sapphire and the Land of Gems