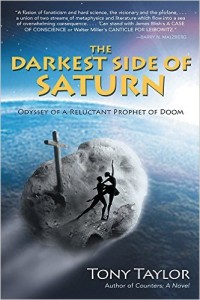 It's 1997 at a mountaintop observatory in Southern California where spacecraft navigator Harris Mitchel and astronomer Diana Muse-Jones discover a dangerous asteroid which may hit the earth within two decades. As the asteroid tumbles through space towards an uncertain impact, Harris and Diana fight bitterly over how to announce their discovery.
When Harris goes public to a skeptical world–at the cost of his and Diana's careers–he sends their already turbulent relationship into a blaze of conflicting passions. As his notoriety builds, a fanatical preacher and his unhinged followers stalk him while an obnoxious radio personality provides disruptive help. Harris becomes an unwilling Pied Piper for his own overzealous followers hungry for belief and eager for guidance into an uncertain and tumultuous future.
In this science fiction drama the characters battle each other in contests of Damn your world view! against a background of hard science, religion, romance, metaphysical speculation, and the forces of nature versus human passions and dreams. Meanwhile an asteroid hurtles through the solar system and global salvation or disaster hangs in the balance.