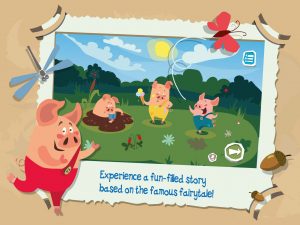 The interactive story for kids about the Three Little Pigs and the Big Bad Wolf.
Recommendation from Apple in 

more than 85 countries

!

Gold Medal Winner

 of the 2017 Global Ebook Awards in the category "

Best Multimedia in an Ebook

 (Audio/Video/Internet/App/iPad)"!
The Winner of "Show Your App" Award 2017 in Germany!
Being a young businesswoman and mother, I came across the idea of working together with a highly motivated and capable team to create and bring to life a children's app. The app is targeted towards children of pre-school through to primary school age and who are already searching for IT-based media with a look towards appealing fairytales. For me it was important that the media and how it is worked through was tailored to children of this age group and that the child can have fun while being led through a learning experience. In the first few years of life it is very important to be guided into this correctly.
Learning should be fun, only then will learning be a success.
The app has been created based on the following:
Multilingual app
Progress through experience
Inclusion of interaction
Entertaining animations
Read aloud, hear, see
Real-time mode
Appealing flat design
Interactive special effects
The interactive e-learning app "The Adventures of the Three Little Pigs" – is perfectly suitable for young children from the age of one year and upwards. Along with encountering the qualities of a children's book, children are inspired to independently explore events within the app and to communicate with the app using diverse features. The result is a fun and playful learning experience. The story itself is split up into several scenes, each of which promotes the learning of particular compentences. As well as telling the story, the app poses questions and quizzes, and requires games to be completed – the complexity of which is determined by the age of the child.
Download the app here: https://goo.gl/3GwZqs
More info and contact details:
Facebook: https://www.facebook.com/thethreelittlepigsapp
YouTube: https://www.youtube.com/c/irenedeevthreelittlepigs
Web: https://www.deev.de/three-little-pigs.html