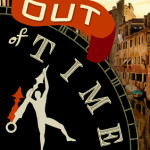 Jay Aldan has plundered many treasures to protect his people from extinction after the Great Plague. But now the very future of his world pivots on one special relic accidentally discovered in Venice by a fascinating young girl. 
Aided by high tech gadgets and with beautiful Aurelia at his side, Jay journeys from ancient renaissance Italy to current day Switzerland and the hills of Tuscany, dodging poisoned gas and horrific weapons, battling unexpected rivals, all in pursuit of an ancient artifact that threatens to warp the very fabric of time.
They are in pursuit of the mystery protected by Jay's captain Marcus, trying to rejoin his long lost love, but may risk their lives, or worse.
It's a chase to a startling finish for their high speed adventure. Will the magic, the mystery and the power of an old watch be enough to protect them from mortal danger?
Out of Time by Mario Diana available on Amazon