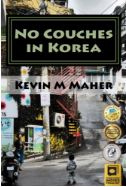 A 2016 Finalist for the Foreword INDIES for Travel, a 2017 Finalist at the International Book Awards for Non-Fiction/Narrative, A 2017 Silver Award winner for the Global Ebooks Awards in Travel/Essay Fiction, and a 2017 CIPA EPPY Finalist for Travel Writing.
 
This gem of a classic describes Pusan of South Korea in the mid-1990s. A decade when western English teachers descended upon, meandered about, and discovered a place within an ever more modern Korean society. From the point-of-view of Adam Wanderson, you will be led on a first-person narrative of the job, the experiences, the landscape, the expat scenes, and the many colorful western characters that made their way to South Korea, to make a new home. All the while, Adam struggles with separating entirely from his past, or entirely embracing the new. 
 
NO COUCHES IN KOREA is even timelier today than when the story first took place. It shares a foreigner-experienced glimpse into South Korean life just prior to cellphones, the internet, and the current craze of Korean films, TV, and K-Pop.