VIDEO TRAILER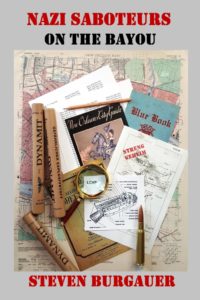 Imagine a dead German in a whorehouse bed.  A pair of bloated corpses floating in a Mississippi bayou.  A mysterious notebook filled with unknown codes and hand drawn maps.  Brave young Marines and Navajo code talkers landing in the Pacific.  A Mafia Don helping the Allies seek revenge on the Fascists.  A secret meeting of U.S. marshals with a New Orleans crime boss.  A series of anagrams challenging the code-breaking talents of the brilliant minds at Bletchley Park.  A gathering of international intelligence officers onboard a ship in the western Mediterranean.  A Nazi plot to sabotage the production of Higgins landing craft without which Americans would never be able to land safely on a foreign beach.
4 stars out of 5
"An engaging, slow-burning wartime thriller with an epic feel and a large cast of characters."
— November 8, 2016, "The Book Reviewers," a division of Full Media Ltd. (UK)
"In a war that rips apart entire worlds, who can truly be the winner?  Add a dash of romance to the intrigue for a solid World War II thriller that's intricate, frighteningly realistic, and hard to put down."
— Diane Donovan, Senior Reviewer, Midwest Book Review, December 2016
"A sweeping story of heroism and heartache, bravery and betrayal, set against the backdrop of the cataclysmic events forever remembered as World War Two.  Five stars to Steven Burgauer and his tale of historical World War Two fiction.  May we never again need to live through such a terrible conflict."
— November 20, 2016, Publishers Daily Reviews
"For World War II buffs, those who like historical fiction in general, fans of New Orleans legends and lore, and readers who like espionage yarns spun out with an epic sweep.
— November 21, 2016, Bookpleasures.com by Dr. Wesley Britton
"A rich and complex plot that's as compelling as it is entertaining.  Nazi Saboteurs on the Bayou proves a wholly enjoyable read and one that is highly recommended."
— December 4, 2016, BookViral by John Reese