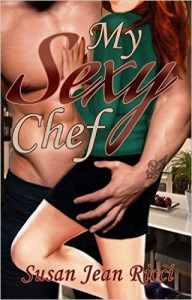 "Once in a lifetime, if you're lucky, a Coup de Foudre strikes. This happened to me the first time I set eyes on Mark Bouchard."
So begins this fast-paced, romcom, in which Malibu O'Hare, who has always prided herself on her cool demeanor regarding the opposite sex, comes face-to-face with Creole Chef Mark Bouchard and his past.
More than the steaks at Scandal restaurant begin to sizzle as Susan Jean Ricci, the beloved From Women's Pens author of the Cindy's Crusades series, weaves yet another hilarious, but tangled web.
Hang onto your hats, as Malibu calls on her vivacious aunt Cindy for help, and things really get steamy in this first blush novella in Ms. Ricci's new My Sexy Chef series.
You won't want to miss this one!