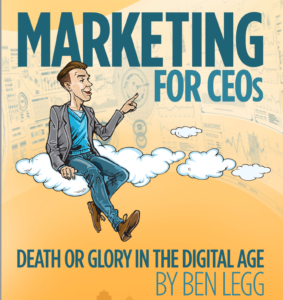 Adparlor CEO Ben Legg, a veteran of McKinsey, Coca-Cola and Google and one of the sharpest, most innovative minds in digital marketing, delivers a smart, irreverent manifesto sure to put the fear of God into most Chief Marketing Officers! Marketing for CEOs may be compact in length, but it's long on ideas and informed opinions about what works and doesn't work in today's digital marketing world.
What works:Directly linking marketing activities to the creation of shareholder value, customer lifetime value, an iterative creative process where lots of ultra-targeted ads are created and tested in real time, systematically ferreting out inefficiency, testing your CMO to see if he or she has the digital marketing chops to get the job done.
What doesn't work:Most CMOs, CEOs who ignore their role as "brand stewards", using customer data in ways that are creepy or invasive, and CMO/ Chief Information Officer turf wars, among other things.
Marketing for CEOs is packed with insights from one of the leading intellects in the ever-changing world of digital marketing and branding. Whether you're in the C-suite or just aspire to be one day, if you want to know how the digital marketing revolution will shape the future, read this book. If you want to know how to run a lean marketing operation that runs smoothly and outsources wisely, read this book. If you want to know how to hire the perfect CMO for your organization—or if the one you have is actually pretty good—start reading.
And if you're a Chief Marketing Officer, read it before your CEO does. The job you save might be your own.