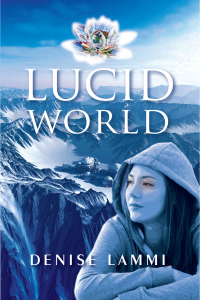 When 15 year-old Morgan is contacted by the advanced civilization of Lucid World, she has no idea what is to come. She is one of a select group of teens chosen to travel via avatar into a remote, and hidden technologically-advanced society housed inside a vast mountain cavern. Here she learns about an emotional disease called khaos, that has infected all of humanity. Her new friends in Lucid World live under a dome beneath an ice cap, with cats, culture, and a harmonious way of life uninfected by the khaos of the world above. Those living on earth now are in what they call Nosos World. 
Shifting from Morgan's family and school life to the education she receives in Lucid World, the story shows Morgan applying the understandings of khaos to problems in her life, and in the town. While Morgan's everyday life in Coyote Flats continues to unfold, her family and friends have no inkling of her Lucid World contact. But when communication breaks down, Morgan's secret is exposed. 
A book with a sweet message of good will, compassion and understanding, LUCID WORLD was written for young adults but can be enjoyed by all ages.