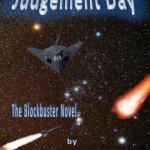 When a meteorite destroyed a house in a sleepy, English village, no one could have predicted the chain of events that would lead Swan Morrison and Helen Hargreaves to romance and would ultimately propel them into an epic battle for the very survival of mankind.
How can one adequately describe a novel that is (in alphabetical order): an adventure filled; archaeological; comic; crime featuring; dramatic; erotic; espionage laced; horror tinged; political; religious; romantic; science fiction; supernatural thriller with philosophical, satirical and allegorical undertones?
This affectionate tribute to many classic storylines is where the writers of the Archers meet the creators of Indiana Jones meet Dan Brown meet John le Carré meet E. L. James meet Stephen King meet Isaac Asimov meet Barbara Cartland meet Harold Robbins meet Colin Dexter meet Ian Fleming meet Woody Allen meet Douglas Adams – to name just a very few.