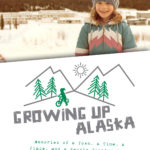 Beginning with a family move to Alaska in March of 1982, Growing up Alaska follows the memories of Niki as she settles down and lives in the small town of Tok (pronounced Toke), Alaska, located ninety miles from the Canadian border in the interior of the state. From daily life of walking to and from school in the dark with a flashlight and playing outside at recess at 20 below zero, to traveling upwards of five days for school basketball trips that included bus, ferry, and airplane travel, Niki weaves a tale of a unique childhood and talks about what her normal was.
Delving into the town of Tok itself, the book highlights things that make Tok, well, Tok. Featuring Mukluk Land, the Mukluk News, Bucky the Moose, the Tok Trot, the Tok Race of Champions, and the infamous Tok River Fire of 1992, Niki's story is proof that although Tok may be a tiny town considered a tourist stop along the Alaska Highway, you cannot say there is nothing in Tok.
Looking back, Niki shares childhood memories of wilderness play and unusual winter living, like life in the dark and cold. Even with the dark and cold, though, there was life. Life full of ice skating, snow machining, sledding, and friendship. Summertime was bursting with light, work at local businesses, bike riding, basketball at the town courts, travel "outside" to see family, and travel within the state for the few and brave who could make the trip. There were also a few shopping trips a year to Fairbanks, the closest major city . . . four hours away.
The heart and soul of Growing up Alaska is the community of Tok. Tok wouldn't have been Tok without the residents who lived there. This town of 1200 souls was living in a unique time and a unique place with an even more unique people. Niki may have left Alaska physically, but Alaska has never left her heart, which was evident when she made a return trip in 2006. Alaska will always be home.
Here's to a well-lived childhood. . . . Here's to Growing up Alaska.