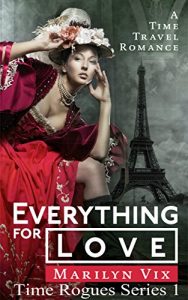 Paris 1899.
Deidre is followed by a mysterious stranger.
London 1914
She sees the same man again.
What would you do if you were being followed through time?

Deidre Thompson is a timeanaut studying artists in the early 20th Century powering her time device by sex. A mysterious stranger follows her from Paris 1899 to London 1914. He saves her life which changes the timeline. The man, Max, reveals he's been sent by the Time Counsel to save her. Max helps Deidre on the assignment. But he is secretly in love with her, and defied the Time Counsel to save her. The timeline change brings Deidre's past love back to life, but can she choose between them to save them all?