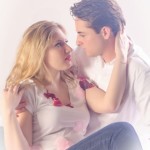 Connor's dead. But she can still feel him. Is it just her imagination or something more? Celeste wants to know. And she'll stop at nothing to find out.
  
A once-aspiring artist, Celeste is going through the motions of life. She's stuck—in a job she doesn't love, with a man who isn't right for her, in a web of painful memories from the past. Adding to her despair is the sudden and unexpected death of Connor, her true love. As she struggles to make sense of the world around her, strange coincidences and mysterious events lead her to question her sanity and ultimately lure her to an unknown realm in search of answers.
 
Join Celeste as she risks her marriage, her career, and her own safety to escape the demons from her past and unravel the mysteries of life and death. With so much uncertainty, there's only one thing Celeste knows: her world will never be the same.
Photo by Steven Jon Horner Photography