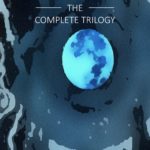 Blue Moon Chronicles: The Complete Trilogy is all three eBooks in the Blue Moon Chronicles trilogy, available as one complete story.
About Book I: The Continent War:
Ian Hirst has never been the greatest hunter.

When he leaves home for a simple trip to the capital city, he doesn't know his life is going to change. He meets new and strange people on his trip. In the city, he learns of the impending Continent War.

Dark times are coming.
About Book II: The Blue Moon Mercenaries:
When mysterious visitors arrive at Luna one night, the Blue Moon Mercenaries greet them with their weapons ready.

Tasked with looking for a doctor, Isaiah Hirst leaves, saying he'll return in a few days. Days turn into weeks and his friends start to worry.

Nothing could have prepared them for the blood and fire of the Continent War.
About Book III: The Way the World Ends:
"It's time to end this war," was the last thing they said to each other.

As he recovers, Isaiah Hirst knows that the war won't wait for him. The armies are tearing each other apart. Time is running out.

The final battle must begin.