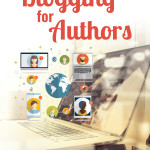 Are you an author who needs to learn more about blogging? 

Are you feeling uncertain about the technology or what to blog about? 
Finding that all-important reader is the key to an author's success. Many studies shows that blogging is a great way to connect with readers because at it's heart, blogging is just another form of communication. 

Blogging for authors covers all aspects of blogging from what to blog about to technically how to manage a blog. 

In this book you will learn: 

• Why authors need to blog and how to figure out what to blog about 
• How to choose a platform to blog on 
• How to create the ideal blog post 
• How to manage sidebars and widgets 
• How to keep your site safe and up to date 

˃˃˃ And there is more! 

Blogging for Authors contains links to 26 instructional YouTube videos as well as a coupon for money off my newly created course WordPress for Beginners – Perfect for Authors & Bloggers. This course is an online program specifically designed with beginner authors/bloggers in mind.