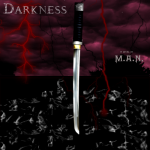 Follow Blade, a young warrior in training on his journey for power and respect. Read as he battles legendary warriors, dragons, and even gods on his path to become both the most powerful warrior in his village and eventually the most powerful warrior of all time. Blade will face seemingly insurmountable obstacles as he hones his skills and attempts to achieve Ultimate Power. Blade Forged in Darkness is filled with action, adventure, plot twists, character growth and overall fun and excitement.
Blade Forged in Darkness is written in 2nd person POV in order to enable the reader to better connect with the essence of the characters.
Instead of using "I" or "He" to address the protoganist, the 2nd person POV places the audience directly in Blade's shoes. "I" or "He" can be seen as someone retelling their story, while "you" is referring to you as the reader.