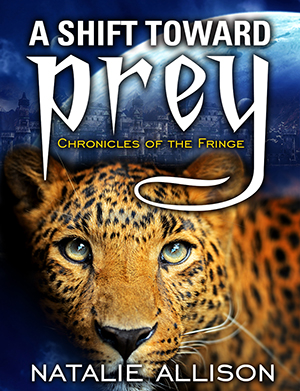 What happens when political ambition is matched against predatory instinct? Discover a world of intrigue, betrayal, conspiracy, and magic in this unique paranormal fantasy novel by debut author Natalie Allison.
Amazon  |  Smashwords  |  Kobo  |  Nook
Facebook  |  Twitter
Review from Book Viral:
Introducing a vibrant, compelling and exciting new voice in Paranormal Fantasy fiction, A Shift Toward Prey proves both creative and entertaining as Allison delivers a spectacular plot with faultless forward momentum. For a new author to deliver something this good in a debut is a rarity but Allison clearly knows how to build a visually complex tale whilst ensuring the definitive devices of the genre are ever present. From concept to execution her narrative is flawless, confidently navigating multiple plot threads, without feeling cumbersome, to create a delightfully dark dance of manipulation as Chiari Jhahn finds herself embroiled in the machinations of power and conflict. Yes, the definitive tropes of the genre are present but it's a credit to Allison that she manages to add a genuinely disquieting sense of presence whilst retaining just enough restraint in her narrative for the imagination to blossom. Definitely the work of a vivid imagination there is much to commend it with her description of characters and unfolding events being amongst the best you will read as her prose evoke clear images in the mind.
Consistently superb and utterly readable, A Shift Toward Prey certainly sets the bar high and against which future releases in the series will be measured.  Thoroughly enjoyable, it is recommended without reservation.
Are you ready to immerse yourself in a world of predatory politics? Get your copy of A Shift Toward Prey from your favorite eBook retailer on May 15, 2017.
About the Book:
For too long, Chiari Jhahn has been forced to watch her elder sister's savage regime destroy the very heart of the Shifter Realm. And now it seems as if her sister, Huntress Reyhani, is hell-bent on starting a war with their long-time enemies, the Vampires of the Everdark. After a disastrous confrontation leaves a prominent leader dead and the peace negotiations stalled, Chiari feels she has no choice but to start a revolution—it's either that, or watch her people become nothing more than prey for a much stronger predator. Chiari must use every ounce of her intellect and cunning to build a rebellion that will topple her sister from power. But when her friends prove to be worse than her enemies, Chiari finds herself drawn into an intricate web of political intrigue and personal betrayal that could end up igniting the war she'd hoped to stop.
Meanwhile, Matthias Corvas, a human from the Shadow Lands, is hosting an important visitor: a prince of the Solandian Empire. Normally, diplomatic envoys represent the possibility of alliances and trade deals. But the prince of Solandia has a warning for Matthias—his emperor would rather conquer than talk of peace. Knowing his people have no chance against an army ten times the size of their whole population, Matthias must race to find allies in a world where none seem to exist. His only hope is to seek help from the fabled lands of the Fringe—after all, an alliance with blood-sucking predators is better than no alliance at all. But when his search for allies lands him smack in the middle of the Shifters' war with the Vampires, Matthias discovers that his peoples' troubles are just a small facet of the building firestorm that could tear the whole world asunder.
For Chiari and Matthias to succeed, they must uncover a conspiracy of continental proportions and root out the war-mongers who are threatening to destroy the fragile peace between the realms. But Vampires aren't the only monsters in the dark—and they're not the only predators out for blood. Their shared dream of peaceful coexistence may be nothing more than a naïve fantasy. When political ambition is matched against predatory instinct, the phrase "coming back to bite you" takes on a whole new meaning.
About The Author:
Natalie Allison grew up in a house full of books. Her world—and her imagination—became infused with the wonder and mystery of places like Middle Earth, Narnia, Valdemar, and Pern. An early love of books led to an early love of writing, and she wrote her very first novel at the tender age of eight. She's been building worlds with words ever since, and her stories have entertained readers from all over the globe. Now she lives with her adoring husband, a son who's a genius, and a dog who's determined to save the world from mushrooms, kittens, frogs, and other nefarious creatures.