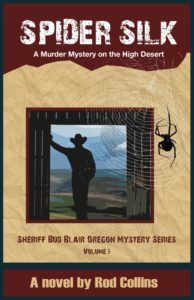 A GLOBAL EBOOK AWARD FINALIST, this is the first book in the Sheriff Bud Blair Oregon mystery series…
A suspicious death leads to an investigation, a manhunt, and the capture of the self-confessed killer. But when Sheriff Henry "Bud" Blair reads the autopsy report, he begins to suspect that someone other than his prisoner is the actual murderer.
Set in Oregon's high desert country, Spider Silk introduces you to a compelling cast of characters and sets you on a fast-paced, page-turning adventure to find out who is behind a string of (seemingly) unrelated murders.
Moving from the backdrop story of a remote ranch and a lonely widower to the dark and pervasive reach of organized crime, Spider Silk is not only intriguing… it's an entirely believable saga.
Surprising forensic evidence and sharp detective work keep your interest level high and the suspense palpable in this police procedural cliffhanger.
Spider Silk is also a love story
Badly burned by divorce, Bud Blair steers shy of women. But his work makes it almost impossible to avoid contact with Nancy Sixkiller, the beautiful Yakima Indian woman who manages the Emergency Services Center in Lake County, Oregon.
That contact is intensified when Bud is injured and Nancy takes on the role of caregiver.
When you dive into this gripping western fiction tale, you'll enter the sparsely settled, high desert landscape blessed with the hot springs, big lakes, and timbered mountains Collins knows and loves.