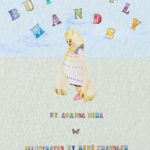 This is the story of a shy girl finding her voice.
Anna is an eight-year-old girl that wishes to make friends. The only problem is she's so shy that she can't even say her own name. Her shyness is crippling. She feels small, her hands start to grow and her imagination takes flight. With the help of an unlikely superhero and a good dose of inner strength she learns to find her voice. 

A helpful tool for teachers, counsellors and parents.

Featuring moving images and hand drawn watercolours that encourages children's artistic imagination. Find the hidden butterfly on every page.