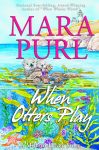 Sea Otters: Playful Friends or Harmful Predators?
Extensively Researched Novella Wins Gold at the Global Ebook Awards, Extending Best-Selling author Mara Purl's Milford-Haven Saga
No ocean creature is cuter, nor more clever, than the Southern Sea Otter, permanent resident of California's Central Coast. So when author Mara Purl's research turned up several incidents of sea otter shootings, she was shocked. "I wanted to write about them because they're our coastal neighbors, living most of their lives within sight of humans. Anyone who visits has seen their adorable faces and their cute antics. I just couldn't imagine why anyone would shoot a sea otter, so I kept researching until my book could present all side of what turns out to be a complex issue."
With her finger always on the pulse of life in California's gorgeous Central Coast, best-selling author Mara Purl spent three years researching the issues that she eventually wove into a novella that has now captured four prestigious book awards.