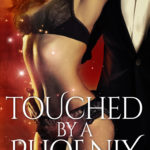 SHOCKINGLY DANGEROUS: Touched by a Phoenix is a sizzling romantic suspense containing explicit sexual content, which is intended for Mature Audiences only.
Military technology, shrouded in secrecy and isolation. So was the man that gave it life…or so he thought.
Playboy Brad Scott spent years avoiding love, his heart and mind dedicated to only one thing—global security. That is, until he meets the elusive Alexandria Saunders, daughter of one of the wealthiest men in military technology and the fiercest corporate attorney in the mixing bowl. Alexis tears Brad's world apart the moment they meet and with a single touch, becomes the breath against his fire…his obsession.
With Alexis at his side, he has realized the greatest breakthrough of the century in military technology. Now, the world wants what he knows and will stop at nothing to hunt him down.
In a game of betrayal, terrorists seem determined to destroy Brad but should they fail, they'll opt to eradicate the next best thing—Alexis. In a race against time, can Brad swallow his pride and allow former CIA agent John Martin to help him save the only woman who has the power to save him from himself? Along the way, can they save the world from the horrors about to be unleashed?
Grab your copy here:  http://amzn.to/1Mbmk2k