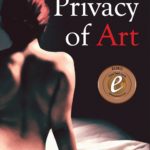 This is a story about love. It's set in the beautiful Blue Mountains area of Australia and revolves around a Bloomsbury-like group of artists, who live there from the Sixties to the present day.
Neil Baxter and Isabella Shaw, share a successful artistic partnership – but to whose cost? Their unorthodox relationship, built upon mutual admiration, strong bohemian values and libertarian principles, has some painful ramifications when their daughter, Persia, marries her father's ex-lover.
But more than this, Neil and Isabella's story is the backdrop for the emotional heart of this novella, which is the evolving relationship between Isabella's son, Hugo and his childhood friend, Meg Taylor.
Told through a series of interwoven narratives, where the past is always bubbling to the surface, The Privacy of Art explores the ideas of artistic and emotional experimentation involving love and desire; truth, deception and collusion; ambition and artistic jealousy.