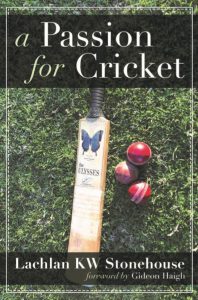 …represents 44 years of involvement in the great game of cricket. It is a game played by two teams, whose make-up is diverse in age, race and gender. Cricket is a wonderful, spirited game that can often get lost in an emotional moment or an unfair event. This is what I love about our game, the unpredictability, the innate variation and unique occurrences. I've seen the greatest players, played with and against many, providing great insights into their talent.
This book is about what I have witnessed, enjoyed, been upset about and what will make our great game better. Community cricket supports the high finances of global cricket, by supporting companies that sponsor cricket, by attending and watching the game.
This is a book for the cricket community, about grassroots cricket with guidance for parent and cricketers to get better.
Cricket also has lots of laughter. Without this and companionship it wouldn't be as exciting and fun. This book has it all, something for each generation of cricketer, supporter, the cricket lover and an entry book for those who know nothing about the game.
I love the game that has given me so much enjoyment over the years – a great result. I hope you enjoy my stories, analysis and coaching tips. Remember, you hold the 'soul' of cricket in your hands.
"Cricket takes you places, both literally and in your dreams" – Lachlan Stonehouse.