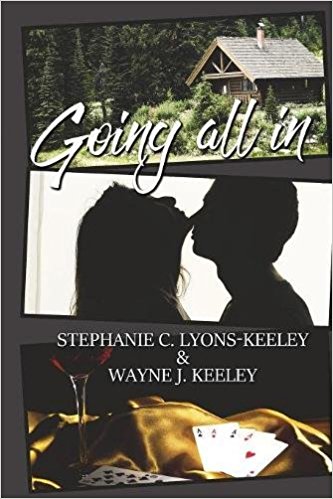 Going All In is the story of three mismatched suburban couples who have been neighbors and friends for years. During a pummeling Connecticut Nor'Easter, the members of the bored sextet engage in a friendly game of Texas Hold'em in front of the fire over countless bottles of Merlot. The impromptu get-together eventually leads to the institution of rousing, alcohol-driven, bi-weekly poker nights.
One evening on a lark, someone suggests an alternate payout – instead of playing for pocket change, the winner may choose someone other than his or her own partner with whom to spend the night. What happens there stays there. After a few hairy eyebrows, the proposition takes shape; but complications arise as these things will.
All too quickly, friendships are strained and relationships crumble. Lies are told, truths are exposed, and feelings are hurt. In the end, can anyone bear the weight of this wanton self-indulgence? They are six fully consenting adults, and this was supposed to be just for fun – a goof. No one could possibly get hurt; after all, it was only a game. Or was it?
Stephanie is an award-winning writer, director, and producer as well as a novelist, playwright, screenwriter, journalist, editor, and blogger. With a Master of Arts in counseling psychology, she currently also is a professor of psychology at Western Connecticut State University and Naugatuck Valley Community College.
Wayne is a four-time Emmy-nominated, two-time winning writer and producer, as well as a novelist, filmmaker, playwright, screenwriter, blogger, and theatre producer/director who has worked with countless industry greats. He also is author of the legal thriller Mahogany Row. He also is a media attorney and a professor of communications at Western Connecticut State University.
Together the duo has a blended brood of seven children. They pen "he-said/she-said" reviews for theatre, film, books, and other entertainment media on their website, Pillow Talking, where they also conduct celebrity and artist interviews. Moreover, Stephanie and Wayne have combined their talents on myriad projects for film, theatre, and TV which are in various stages of development. You never know what they'll be doing next!
GOING ALL IN IS AVAILABLE AT:
Amazon-http://amzn.to/2fKcuO9
Nook-https://tinyurl.com/y7gmxotd
Smashwords-https://www.smashwords.com/books/view/750670
Kobo-https://www.kobo.com/us/en/ebook/going-all-in-11
LULU (print book) – http://www.lulu.com/shop/stephanie-c-lyons-keeley-and-wayne-j-keeley/going-all-in/paperback/product-23349345.html