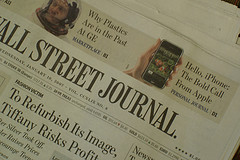 The Wall Street Journal has an agreement with Nielsen BookScan to publish bestseller lists that include both physical paper books and e-sales.
Four charts will include: combined ebook and physical sales for fiction and nonfiction, and esales only for fiction and nonfiction. Eligible releases will include self-published books, children's books and "perennials," older works that continue to sell strongly.
It's the first time that Nielsen has compiled ebooks, with Amazon.com, Barnes & Noble, Apple and Google among those participating. BookScan numbers reflect around 75 percent of hardcover and paperback sales and offer a rare look at raw data from an industry known for being secretive about how much books actually sell. But the Nielsen statistics became increasingly limited as e-sales took off.